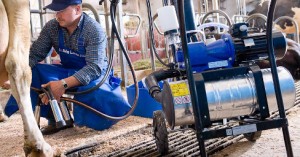 A dairy farm from Hampshire is looking for a keen candidate to take the role of milker/yard-worker in our six person team. The farm is located just 1 hour from London.
It runs 450 cows on an Autumn Block Calving system, selling milk to Sainsbury's.
The average yield of the herd is just under 10,000 ltrs per cow, achieved by ensuring high standards of cow comfort and welfare.
The team has a strong team spirit and work ethic.
Time off can be generous – Up to Five and a half day week, with every other weekend off plus a day an a half (in the alternative week) and twenty three days holiday plus Bank Holidays (or days in lieu).
Daily shifts are kept productive by maintaining around a nine and a half hours working day, starting either 4.45am or 6.45am, with breaks in the middle.
Accommodation is available in a mobile home.
Progressive support and ongoing training (far above what you would find on most dairy farms) for those who want to make it.
Generous salary, improves with ability.
Job position – Dairy Worker
Number of staff needed – 1
Salary (basic annual salary) – From £20,500
Start date – ASAP
Guaranteed number of working hours (per week) – 50
Contract duration – Permanent
Place of work (city, country, ZIP code, etc.) – Hampshire
Accommodation? – Yes (paid by Employee at cost of £25 per calendar month
Requirements:
– Good English required
– Full driving licence is essential.
– Experience of dairy work preferred but not essential.
No Fields Found.