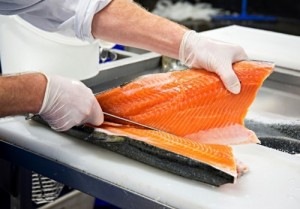 We are looking for motivated Polish workers for jobs in a fish industry. Production workers are going to work normally five days per week, 40-45 hours per week and if they want, more. We are looking for Polish fish workers who can come and working in our fish processing company in Holland, Urk. The job is for the whole year, we arrange house, insurance and everything wat our workers need.
Job position – Fish production worker
Job specification – all kind of production work in fish factory, cutting with the hand or machine.
Number of staff needed – 10
Salary – rating from 1500 till 2000
Start date – as soon as possible
Place of work – Urk, Holland
Contract duration – 8 months
Number of hours a week guarantied – 40-45 hours
Accommodation – 78 EUR/week
Requirements:
English level – Not required
Gender preferred – No matter
Experience required – The only thing that matters is that they want to work, that they are motivated and that the cold is not a problem. 75% females and 25% males is the best because of the sort of work.
Additional info – They also need an insurance in Holland. If they have by there own it is okay but if the want one via us then the cost is 19,50 per week.
No Fields Found.