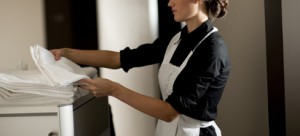 Hotel general assistants needed from May 2016. The jobs are near Barnstaple, England. Job duties is waitress, room cleaning, some reception an some easy cooking. No experience necessary, full training given.
JOB INFORMATION
Job title: Hotel General Assistant
Nr of staff required: 2
– 1st person – 2nd May – approx. 16th October, preferably with Hotel Experience, good English, and an interest in cooking
– 2nd person – 22nd May – Sept 15th approx., can accept a younger person without experience. But they must have good English. Ideal for a pre-University student
Salary [hour rate]: £5.50 per hour to £6.70 per hour
Nr of hours a week: 40 – 50
ACCOMMODATION
Accommodation: Provided and paid by employer
FOOD:
Food: Provided and paid by employer
REQUIREMENTS:
Start date approx. 2nd May – until 17th September approx.
Younger person age 18+
Previous experience of room cleaning and waitressing an advantage, but not essential.
Good understanding of English, is essential.
Own room. Free food and accommodation.
Excellent opportunity for a student waiting to go to University.
No Fields Found.