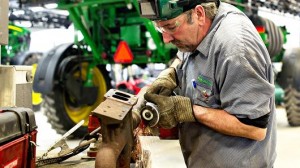 We are looking to recruit Polish skilled mechanics with English, an HGV mechanic and Agricultural mechanic.
We run a fleet of 16 HGV vehicles and about 40 trailers, we service 9 tractor units and all the trailers ourselves, the other tractor units are serviced under warranty by Volvo. We are looking for a mechanic to service the trailers and units regularly, prepare for mot and deal with any breakdowns etc. The mechanic will need English to at least an intermediate level. We pay £12 per hour, our current mechanics work about 70 hours per week which does include working on Saturdays as required.
Agricultural mechanic salary and hours the same as the hgv mechanic, English needs to be good, the work involves servicing and repairing farm machinery, tractors, trailers, Grimme potato harvesters, combines etc.
We have an accommodation available to rent.
Job info:
– wage: £12
– hours: up to 70
– start: ASAP
– accommodation: £75/week until source own
– location: Hereford, England
No Fields Found.