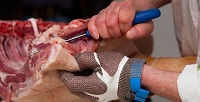 We are recruiting for a Polish butchers and boners with experience in boning beef. The job vacancy is for an experience butcher/boner at the moment. The candidate would need to have experience in boning beef. The employer currently employing Polish butchers.
Job position – Butcher/Boner
Number of staff needed – 1
Salary (basic annual salary) – €26 200
Salary (hourly rate) – €11.20
Start date – immediate
Guaranteed number of working hours (per week) – 45
Contract duration – 1 year
Place of work – Ahascragh, Ballinasloe, Co Galway. Ireland
Accommodation – The employer would assist candidate to locate accommodation.
Requirements:
– Basic English at least required
– Experience of Boning required
No Fields Found.