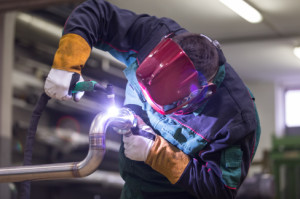 A company based in Belfast is looking for fabrication engineers. The company with over 50 years' of industrial experience, continues to excel with the services we provide. The company works with some of the biggest house hold names, global brands and international food processors.
We have pride in the work we do, the products we supply, and the strong relationships we build with our customers, not to mention being a part of projects with new and exciting technologies. The company offers a product portfolio from bespoke machinery solutions and manufacturing, to onsite training of engineers to assist with upskilling. The future is bright, with planned growth and development for the company and its employees. We now wish to recruit further fabrication engineers that can complement the company and grow with us. We want to talk to exceptional fabricators whose pride in their work and products they produce is a measure of their skills and attitude.
The person:
You are a confident self-starter who is both a motivated individual and naturally acts as a team player by supporting your colleagues to meet goals. You take pride in your work and set high standards for yourself and others.
You are calm when deadlines must be met and have the drive to hit them, yet the trust and maturity to ask for help when you are faced with challenges.
You can work as part of a team or on your own, take direction and deliver on what you have agreed on.
You are an excellent communicator both written and verbally and are a good listener. You are organised and have excellent time management skills.
The role:
You will be working as part of the fabrication team contributing to the production of orders on time and to the required specifications in line with customer requirements.
You will be working with various metals but primarily stainless steel which you will have extensive experience with.
You will be fully competent in the welding process and have operational experience of fabrication machinery from the CNC press, fibre, guillotine, saws and a range of hand fabrication and finishing tools.
The role is based in Moria area on the day shift, Monday to Friday.
Essential criteria
Ability to interpret CAD/engineering drawings unsupervised
3 years post apprenticeship experience.
Wielding certification to a recognised standard City and guilds, codes etc)
MIG/TIG Welding Stainless Steel and Mild steel
Experience working with CNC machinery, associated fabrication equipment & tools
Competent mathematics & dimensional measuring.
Excellent finishing of joint and welds
Experience of manufacturing for the food and pharmaceutical industry.
Clean driving licence
Desirable Criteria
Forklift & lifting equipment training
Health and safety training
Manual handling training
First aid/appointed person training
Fire warden training
Reward
As a company, we are prepared to pay above the market value for the positive attitude, depth of skills and quality of work you will bring to the role.
We also offer a range of other benefits such as family friendly flexible working, Learning and Development Opportunities, Wellness Coaching, Occupational Health checks, Pension Scheme, Long Service Awards, Marriage Leave, Free Car Parking, moving house Leave, Private Medical Insurance, Life Insurance, Child Care Vouchers, Perks and Discount Schemes.
If you believe you want to be part of a company who recognise their employees with more than just lip service, and you have the attitude and skills we are looking for, and liked the sound of what you have read, than please apply by sending your CV with covering letter to either the link below, or to the following address:
Job details:
Job position – Fabrication engineer's x 4
Job specification – The company:
Number of staff needed – 4
Salary (basic annual salary) – £22000-£30000
Salary (hourly rate) – £10.55 – £15.00
Start date – August/September 2018
Guaranteed number of working hours (per week) – 40
Contract duration – permanent role
Place of work – Belfast
Accommodation – Yes (paid by Employee) – 250
Requirements:
English level required – Good
Type/length of experience required – As per specification above.