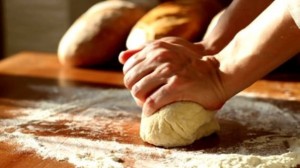 We require an Artisan Baker to be part of a small team of 3 Bakers baking mainly English breads, some Continental breads and cakes within our family business. Night shift work starting at approx. 11pm until 7am – Monday to Saturday. Job specification – Must be able to mix, hand mould, bake and pack. Modern bakery standard equipment. Must be able to produce bakery products to a very high standard. The job is permanent, long term and not seasonal.
More job info:
Job name – Artisan baker
We have 1 position to fill
Pay rate – £8.50 – £9.50 per hour
Immediate Start
Job place: – Honiton, Devon
Contract duration – Permanent
Number of hours a week guarantied – 45+ hours per week, 40 hour guaranteed week
Accommodation –  We will be more than willing to assist in any way possible to find suitable accommodation. Accommodation is available – House Share prices start from £300 per month, House Rental prices start from £450 per month, Flats may be a little less.
Food? – Yes (free of charge). One meal is supplied free of charge during mid shift break.
Who we are looking for:
We are looking for a baker that has had at least 6 years experience baking in a family / artisan environment rather than a factory environment.
Person with good level of English required.
Gender preferred – No matter.
No Fields Found.