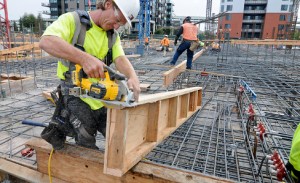 We need carpenters with experience in all aspects of shuttering, including reinforced concrete frames. Working from drawings, our carpenters must be able to make and erect accurate formwork for pouring gangs to cast concrete. All workers are required to have at least basic level of spoken English.
We offer:
Salary: £12.00 p/hr – £13.00p/hr (depend on experience) Salary is paid weekly.
Accommodation: If worker needs accommodation, it is covered by the employer (the employer pay for the accommodation and transport to and from site, the costs are being deducted from workers salary, salary is £10.50 p/hr – £11.50p/hr after the deductions).
Location: UK, Runcorn or West Midlands
Contracts for a minimum of 1.5 years
Overtime available usually.
Working clothes (PPE – personal protective equipment).
In addition workers will be given the following:
– 28 days Holiday (including bank/public holidays)
– Employer pension contributions
– Help to apply for CSCS & NI upon arrival in UK
Requirements:
– at least basic level of spoken English.
– joiner carpenter experience
No Fields Found.