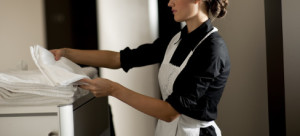 4 star hotel in Cornwall is e are looking for candidates to join their housekeeping and restaurant team.
Housekeeping staff work from 9am – 2.30pm 5 days a week. Aprox 25 hours per week. This can be supplemented by evening shifts in the bar/restaurant to increase hours.
Housekeeping staff are responsible for hotel bedroom changeover cleans and also for our 7 self catering properties. This will be a mixture of weekday and weekend shifts. The rate of pay is the UK minimum wage for your age.
Restaurant staff work a mixture or morning and evening shifts in our 120 cover restaurant.
There may be some live-in accommodation in our staff block. This is £49 per week including 3 meals a day.
Job position – Housekeeping Assistant
Job specification –
Number of staff needed – 5
Salary (basic annual salary) – 16,000
Salary (hourly rate) – £7.83
Start date – Immediate
Guaranteed number of working hours (per week) – 25-40
Contract duration – Permanent
Place of work – Cornwall, UK
Accommodation – Yes, provided (paid by Employee at cost £49 per week)
Food –  Yes, provided (free of charge)
Requirements:
English level required – Fluent
Gender preferred – No matter
Type/length of experience required – Previous housekeeping and restaurant experience preferred. Training will be given.