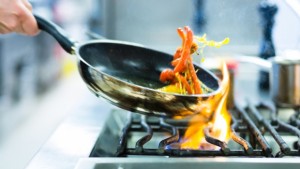 A very famous gastro pub in south of Bristol is looking for a Polish Commis Chef.
We are the busiest and most well known food pub in the area We are looking for an experienced Commis Chef to join the team. We have 4 kitchen members plus KPs working – Head Chef (Aaron Tolmie), Sous, CDP, Commis (which is the position we are trying to fill). All food is freshly made on site apart from the cheese, ice cream and bread from local produce.
The applicant must be able to produce dishes to agreed presentation, portions and timings. The place is busy so he/she needs to be able to produce dishes quickly.
The applicant must be experienced, have worked in a few places (with good lengths of service in them).
They need to have good Food Safety and Hygiene knowledge, as well as being able to work in a team, have good standards of cleanliness.
Job is 5 days per week, mix of split and straight shifts eventually. Live in available – nice flat – two bedrooms (so there may be another chef living there eventually, but no one right now), bathroom, good sitting room, kitchen. Very good tips – £80-£100 per week. One meal per day included when working.
Job position – Commis Chef
Number of staff needed – 1
Salary (basic annual salary) – £17,000-£18,500 + tips (£80-£100 per week)
Start date – asap
Guaranteed number of working hours (per week) – 48-50
Contract duration – permanent
Place of work – Wrington, Somerset, England
Accommodation – £60 per week – all bills inc
Food – Yes (free of charge)
Requirements:
– Good English level
– Looking for a strong commis who has worked in a number of establishments, and has good length of experience in these establishments
– Needs knowledge of working in high quality fresh food restaurants
– Can produce alot of covers quickly – i.e we can do 120 covers in a 3 1/2 hour food service
– Trained up to cover mainly starters and desserts, but also mains on chefs days off
No Fields Found.